Ohio Craft Brewers Conference 2019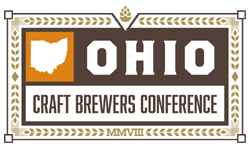 Jan. 9th & 10th, 2019 @ Hyatt Regency Downtown Columbus
Non-Member 2-Day Registration: $300
Non-Member 1-Day Registration: $175
OCBA Allied Member 2-Day Registration: $225 (with code)
OCBA Member 1-Day Registration: $125 (with code)
OCBA Brewery Member 2-Day Registration: $175 Early Bird (3 or more $150 each) through 10/31, $200 (3 or more $175 each) after 10/31

Join us for the 5th annual Ohio Craft Brewers Conference.
Packed with educational seminars, featured speakers, industry vendors and awesome networking opportunities.
Whether you work for an operating brewery, have a brewery in planning, are a craft beer industry vendor, there's sure to be something for everyone…and a few craft beers too!
More info:
www.OhioCraftBeer.org/conference