Cincy Beerfest on Fountain Square 2017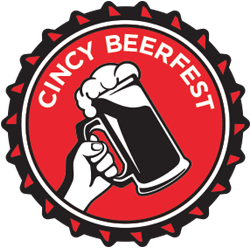 September 8th & 9th, 2017 at Fountain Square & on the closed 5th Street
The 9th Annual end of summer Cincy Beerfest on Fountain Square!
6:30PM-11:00PM Friday
3:00PM-11:00PM Saturday
Advance VIP Tickets:
$35 through 8/11
$40 8/12-9/9 online
$50 at event ticket booth (cash only, if not sold out. VIP tickets are limited in number.)

Buy in advance and save! All advance tickets are VIP Tickets. Includes:
Access to VIP Lounge behind main stage with access to portable restrooms only for VIP guests.
Admission wristband and 5 oz. souvenir mug.
25 sample tickets each good for a 5 oz. pour anywhere in the festival.
Designated Driver Ticket $10 (access to VIP area plus soft drinks/waters, no alcohol)

Tickets are for each night only, but you can come and go freely.
More info: www.cincybeerfest.com