Ohio Craft Brewers Conference 2020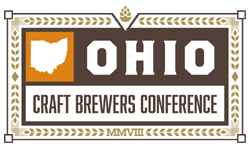 Feb. 5th & 6th, 2020 @ Dayton Convention Center
In-person registration available Feb. 5th & 6th, 2020 @ Dayton Convention Center

OCBA Brewery Member 2-Day Registration: $250
OCBA Brewery Member 1-Day Registration: $150
OCBA Allied Member 2-Day Registration: $250
OCBA Allied Member 1-Day Registration: $175
Non-Member 2-Day Registration: $300
Non-Member 1-Day Registration: $200

Agenda will be available at
http://www.ohiocraftbeer.org/ conference/
Join us for the 6th annual Ohio Craft Brewers Conference.
This conference is packed with educational seminars, featured speakers, industry vendors an trade show and awesome networking opportunities.
Whether you work for an operating brewery, have a brewery in planning, are a craft beer industry vendor, or want to learn more about the industry, there's sure to be something for everyone…and a few craft beers too!
More info:
www.OhioCraftBeer.org/conference