Grand Slam Beerfest at Progressive Field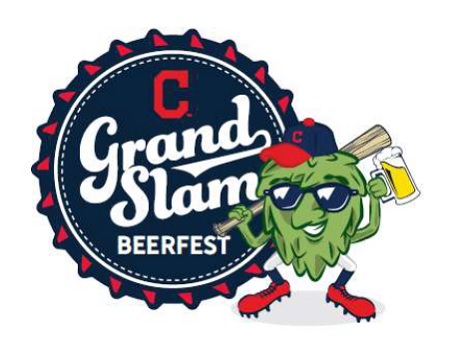 Saturday July 31st, 2021 at Progressive Field (SOLD OUT)
150+ Craft Beers! Thousands of Craft Beer Fans! Great Music, Great Beer, Great Cause! Proceeds benefit MUSIC EDUCATION SOCIETY, a 501(c)(3) organization.

Event is sold out. Tickets that become available here are Resale from existing customers. BeerFestTickets.com is the only place to buy a resale ticket for this event that is guaranteed authentic and not fraudulent.
To resell your own tickets, log into your BeerFestTickets.com account, go to Orders, and mark your tickets for resale.






Fun In The Sun Day Session (SOLD OUT):
1:00PM Early Admission & Super Fan
2:00PM Regular Admission
5:00PM Event ends

Night Session (SOLD OUT):
7:00PM Early Admission & Super Fan
8:00PM Regular Admission
11:00PM Event ends





General Admission Tickets
- Access to Progressive Field concourse and seating areas
- 25 sampling tickets, each good for one sample in a 5-ounce souvenir mug
- This ticket level DOES NOT include field access or the future Indians game ticket

Early Admission Tickets
- Access to Progressive Field concourse and seating areas
- 25 sampling tickets, each good for one sample in a 5-ounce souvenir mug
- An additional hour in the ballpark to enjoy the Beerfest activities
- Access to the warning track on the field with exclusive beers available
- Coupon code good for one ticket to a future 2021 Cleveland Indians home game (*terms & conditions apply, please see details below)

Super Fan Tickets
- Access to Progressive Field concourse and seating areas
- Special Entry Line behind home plate
- 25 sampling tickets, each good for one sample in a 5-ounce souvenir mug
- An additional hour in the ballpark to enjoy the Beerfest activities
- Access to the warning track on the field with exclusive beers available
- Access to Home Plate Club with exclusive beers available
- Coupon code good for one ticket to a future 2021 Cleveland Indians home game (*terms & conditions apply, please see details below)
- Access to the home plate area for a souvenir digital photo
- $10 voucher for a concession stand item
*Field access is weather permitting

Designated Driver Tickets
- No alcohol
- Enter at either Early Admission or General Admission time, but DO NOT receive an Indians game ticket voucher.
- $10 voucher for a concession stand item
- Only available online in advance. NOT SOLD AT THE DOOR.

More info: www.clevelandbeerfest.com