Ohio Craft Brewers Conference 2022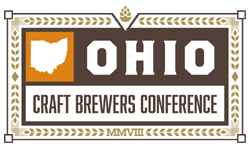 Jan. 18th & 19th, 2022 @ Duke Energy Convention Center
(525 Elm St. Cincinnati, OH 45202)

OCBA Brewery Member 2-Day Registration: $200 through 11/15, $225 after
OCBA Brewery Member 1-Day Registration: $150
OCBA Allied Member 2-Day Registration: $225
OCBA Allied Member 1-Day Registration: $175
Non-Member 2-Day Registration: $300
Non-Member 1-Day Registration: $200

Agenda will be available at http://www.ohiocraftbeer.org/ conference/

Join us for the 7th annual Ohio Craft Brewers Conference.

This conference is packed with educational seminars, featured speakers, industry vendors an trade show and awesome networking opportunities.

Whether you work for an operating brewery, have a brewery in planning, are a craft beer industry vendor, or want to learn more about the industry, there's sure to be something for everyone…and a few craft beers too!
Tickets are transferrable but not refundable.
HOTEL INFO
Rooms at the Hyatt Regency Downtown Cincinnati are available starting at $148/night. You can call the hotel at 513-579-1234 and tell them that you are with the Ohio Craft Brewers Conference to book with the discount or use this link→.
https://www.hyatt.com/en-US/ group-booking/CINCI/G-AOC2
Discount hotel rates expire December 27, 2021.
Proof of COVID-19 vaccination or a negative COVID test performed within 72 hours prior to the event will be required for entry.
Masks inside the venue may also be required depending on local health ordinances.**