Mystery Beer Date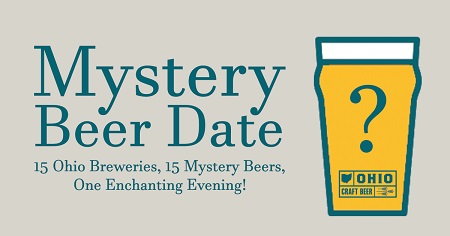 Wednesday, Sept. 13, 2023 @ Giant Eagle Market District Strongsville (15919 Pearl Rd, Strongsville, OH 44136)
7:00 – 9:00 p.m.

Thursday, Sept. 14, 2023 @ MadTree Brewing (3301 Madison Rd, Cincinnati, OH 45209)
7:00 – 9:00 p.m.

Saturday, Sept. 16, 2023 @ Giant Eagle Market District Grandview Yard (840 W 3rd Ave, Columbus, OH 43212)
7:00 – 9:00 p.m.

Admission: $22 advance $30 at the door (includes a souvenir glass, 15 2 oz. "mystery" beer samples and a collectible Ohio On Tap Week pin.)

It's like speed dating, but with Ohio craft beer! Fifteen Ohio breweries will each do their best to woo you with a very special mystery beer (you'll find out what they are when you get to the event.) After you try 2 oz. samples of them all and interact with the brewery reps, you'll get to vote on which beer was your favorite and which rep was the best "date." Winners will be announced at the end of each session.

Ohio On Tap app users: Get a bonus passport stamp for each Mystery Beer Date tasting you attend!

All attendees will also receive souvenir Ohio On Tap Week pins and 13 oz. glasses.

More info: ohiocraftbeer.org/ mysterybeerdate

Mystery Beer Date is a fundraiser for the non-profit Ohio Craft Brewers Association.

You must be 21 years of age to attend Mystery Beer Date tastings (this applies to your newborn in a bjorn as well.) You must show ID at the door for entry.

Tickets are transferable, but not refundable.