Bodhi Bottle Release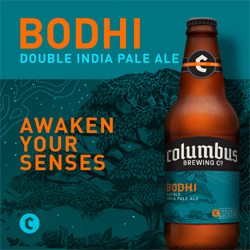 7/16/16 at Columbus Brewing Company
(2555 Harrison Rd. Columbus, OH 43204)
We are finally bottling Bodhi. We swear! After more than half a decade, we're excited to invite you to celebrate with us at our new brewery. There will be multiple sessions for this ticketed event and limited tickets sold per session. This is THE opportunity to purchase a full case from the very first batch of Bodhi to be packaged. Hang with the CBC Brew Team, have a beer, and check out our new facility. Your ticket includes (in addition to a CASE of Bodhi) two draft beers and a bunch of Bodhi swag!
Additional merchandise and draft beer available for purchase (no growler fills).
Food trucks on site!
You Must be 21 Years of Age to Attend.
Choose from one of these sessions: •

1:30pm to 4:30pm

•

6:00pm to 9:00pm
Each $100 ticket includes:
¥ One case of Bodhi (24/12oz bottles)
¥ Bodhi T-shirt
¥ Bodhi nonic pint glass
¥ Canvas Bodhi tote bag
¥ Two draft beers
¥ Souvenir acrylic Bodhi cup for the day's draft selections
¥ Ticket service fee included in price
Draft Beer Selection:
¥ Bodhi
¥ CBC IPA
¥ Thunderlips
¥ SFW Farmhouse Ale
¥ Ales for ALS 2016
¥ "BBB" Bourbon Barrel Aged Belgian Dark
¥ Plus multiple Infused Bodhi variants
Designated Driver Ticket available for $25
, which includes:
¥ Bodhi t-shirt
¥ $5 food voucher
More info:
www.columbusbrewing.com